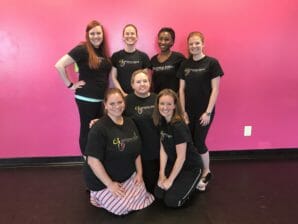 JENNIFER TYSON (Owner/Director)
of Georgia Dance Unlimited, began dancing at the age of four and has extensive training in Ballet, Jazz, Tap, Hip Hop and Lyrical. She has performed in "The Nutcracker" with Rotaru School of Ballet and The 1996 Opening Ceremonies of the Centennial Olympic Games in Atlanta. Jennifer has been teaching in the Atlanta area for 19 years. In that time she has taught Ballet, Jazz, Tap, Lyrical, Acrobatics and Hip Hop to ages 2 to adult.
In 1998 Jennifer began choreographing numbers for dance competitions. Many of her students are title award winners and her groups have won multiple high score and choreography awards both regionally and nationally. Jennifer has been a judge for several regional and national dance competitions across the United States and Canada. Jennifer is the Georgia Representative for Dance Teachers Online. In 2004 she developed a coloring book for beginning ballet students that has been translated into 3 languages.
Jennifer began Georgia Dance Unlimited in 2007 and offered classes through Gwinnett County Parks and Recreation and Gwinnett County Community Schools. In March 2009 Jennifer was awarded "Instructor of the Year" for Gwinnett County Parks and Recreation. Georgia Dance Unlimited has grown to now include a studio location in Dacula that opened in 2013 and 5 satellite locations.   Jennifer lives in Lawrenceville with her husband and 6 kids.
MINDY COX  (Company Director- Instructor Dacula Studio)
Mindy Cox started dancing at the age of five.  Soon after, her family moved and her dance studio was too far away.  Her ballet teacher encouraged Mindy to keep dancing and gave her an "all about ballet" book. Every day she read and practiced from that book.  After two years, she moved back to her hometown and was again able to attenddance classes.  She danced with Kandi's Dance Academy performing company for 5 years.  She then danced for Cumberland College while continuing he professional lessons with the Lexington Tap and Jazz Company.  She began teaching for Dance Centre in Williamsburg, Kentucky in 1998.  It was then she realized she loved to teachdance as much as she loved to dance herself.  Mindy is trained in ballet, jazz, lyrical, tap, and hip hop. She has studied with some of the world's great dance teachers including Joe Tremaine, Darryl Retter, Jay T. Jenkins, and tap legend Al Gilbert.  However, shenever forgot her first dance teacher; the one that taught her that if you love to dance, you should never give it up.  She hopes to pass this philosophy along to her students.  Mindy resides in Lawrenceville with her husband and two children.  She loves to bake, play tennis, and garden.  She also loves hanging out with her family and volunteering at church.  Mindy is so excited about joining the GDU teaching staff this year and is looking forward to meeting your dancer.
ALIE CORDELL (Sparkling Star Director, Instructor- Dacula Studio and Bogan Park)
Alie has had a passion for dance since she was just 3 years old.Growing up in Utah, she received extensive training in the areas of ballet, tap, jazz, and lyrical from the most reputable instructors in the state. She was a dancer in the 2002 Winter Olympics in Salt Lake City and was invited to perform in the opening festivities of the Indianapolis 500 Indycar race in 2003. She has performed across the country winning local and national competitions but has found the most joy in teaching and choreographing. Alie has over 10 years of dance teaching experience and has been successfully teaching students of all ages in Utah and Georgia. Alie and her husband moved to Georgia 6 years ago and have two little girls that share her love for dance.
KAILA FIELDS (Instructor – Dacula Studio)
Kaila began dancing at the age of 3 and has never stopped.  She is trained in tap, jazz, ballet, musical theatre, hip hop, voice and theatre.  She was a member of the Susan Chambers Dance Company for 11 years.  She has performed in the Macys Thanksgiving Day Parade in 2006, Royal Caribbean Stars at Sea in 2011, and many pre-professional dance performances.    She is currently a cheerleader for the Atlanta Chiefs semi-pro football team, along with taking professional dance classes in Atlanta studios. She is presently a full time student at Georgia Gwinnett College.   Prior to attending Georgia Gwinnett College, Kaila was a Repertory   Dancer at Valdosta State University.  She has studied under many well known dance artists locally and in New York City.  Kaila's future plans are to be in a professional dance company and continue sharing her love of dance to young children with teaching, along with being a choreographer and starting her own non-profit organization.
ERICA GORDON (Instructor – Dacula Studio )
Erica was born and raised in Lawrenceville, Georgia. Her passion for dance began at a very young age. After dancing around the house soon after she could walk, her parents finally decided to put her in Buford School of Ballet at the age of three. She then moved to a different studio at the age of 10 where she continued to dance and learn Ballet, Hip-hop, and Lyrical. Along with her studio classes Erica also took a Worship dance class that was offered at her school from 8th– 12th grade where she was able to perform in twice a year. Erica also took private voice and guitar lessons all throughout middle and high school years. This helped her understand the meaning behind the music. Erica is currently attending Gwinnett Technical College where she is majoring in Early Childhood Education. She hopes she will be able to teach her students the beauty of dance and have a passion for it just as much as she does.
KASSIE BOERRGITER (Instructor- Dacula studio)
Kassie's love of dance was sparked when she joined her first ballet class at just 2 years old. Ballet has always been her passion but she has also trained in tap, jazz, lyrical, contemporary, and worship dances. Kassie joined a competition team at her home studio in Bonita Springs, FL at age 12; earning gold, high gold, and platinum awards! She was also invited to audition for a team in the neighboring city of Naples. These two competition teams kept her very busy but she still found time to be a part of the elite dance team at her middle school, even being invited to dance at Disney! In high school, Kassie's family moved to South Carolina where she joined her high schools competitive cheerleading team. This was a great opportunity to learn new skills and train in a new sport. Unfortunately, during her second year of cheering she sustained an injury that brought an end to her dancing and cheering days. Kassie graduated high school and attended college at North Greenville University where she earned a Bachelor of Science Psychology. While in college, she chose to share her love of dance with others and began teaching ballet. Kassie has always been passionate about working with children and inspiring them to be their very best! She now lives in Dacula, GA with her loving husband, Jeremy and their dog, Adrian.
Latest Facebook
Our first camp of the summer starts next week! Come make crafts, play games and dance with us! 3 spots left! ... See MoreSee Less

4
Dress rehearsals and pictures start tomorrow! Double check your dancers rehearsal time on our website gadanceunlimited.com. More details and reminders will also be emailed this morning. This is the photo form for individual pictures. @yazybociophoto ... See MoreSee Less

6
Hi! What are the payment options for buying tickets at the door?
Is there a form where we need to complete for the photo? Any link? I have tried the one from the site but doesn't work for me… Or can we order at the rehearsal day?
Is there a Venmo option or can we pay with cash?
Load more